Company: Walmart
CEO: Doug McMillon
Year founded: 1962
Headquarter: Bentonville, USA
Number of Employees (2018): 2.3M
Public or Private: Public
Ticker Symbol: WMT
Market Cap (April 2019): $295.78 Billion
Annual Revenue (Jan 2019): $514.40 Billion
Profit |Net income (Jan 2019): $6.67 Billion
Products & Services: Retail | Money Services | Health Services | Pet Services | Product Services | Registry Services | Auto Services | Business Services
Competitors: Target | Amazon | JC Penney | Best Buy | Kroger | KMart | Giant Eagle | Ikea | Ali Baba | Home Depot | Lowe | 7 Eleven | Home Depot | Walgreens | CVS
Fun Fact:

Did you know that Walmart makes a profit of $1.8M every hour?
An Overview of Walmart
Everyone's favorite big box store, Walmart is the world's largest retail corporation that sells everything from groceries to musical instruments. More than 270 million customers visit Walmart for their purchases every week while many make online purchases through its websites.
Walmart started as a single small discounted store in 1962 in Arkansas. For 50 years, it has now grown into the largest retailer with over 11,200 stores in 27 countries and websites (e-commerce) in 10 countries. The current CEO of Walmart is Doug McMillon.
Read the article and get a detailed sketch of this retail giant through the SWOT analysis of Walmart.
SWOT Analysis of Walmart
Following is the Walmart SWOT analysis:
Walmart's Strengths – Internal Strategic Factors
Brand recognition – With millions of customers visiting Walmart every day, it is the most recognized retail brand in the world. There are over 60 million items available at the Walmart online store.
Global expansion – Walmart has recently purchased ASDA, the UK based retailer and Indian e-commerce giant Flipkart. Besides, it has created a joint venture with India's biggest retail store Bharti. These global expansions have proven to be a great success for the company.
Global presence – In 2017, Walmart opened 47 new stores in Central America, 15 in Chile, 11 in the UK and 4 in China. Its international operations have increased its sales and global presence.
'Every Day Low Prices' strategy – Walmart is based on economies of scale agenda that's why it can offer low prices. It has fixed costs for thousands of products. Thus, it's one of the cheapest shopping places in the world.
Global supply chain and logistics system – The distribution and logistics systems are the core competencies of Walmart. It uses Information Technology (IT) to efficiently monitor the performances of every product in each store in each country.
Human Resource Management – Employees are the key assets of Walmart. It hugely invests its time and money in developing and managing its employees. 1% of America's working population is employed at Walmart as per Business Insider.
Effective resource management – Walmart efficiently manages its resources including information systems, supply chain networks, distribution facilities, knowledge, and other skills. It has excellent operations in all the locations.
Strong market power over suppliers and competitors – Its large organizational size and global reach have made Walmart capable enough to exercise market power over suppliers and competitors.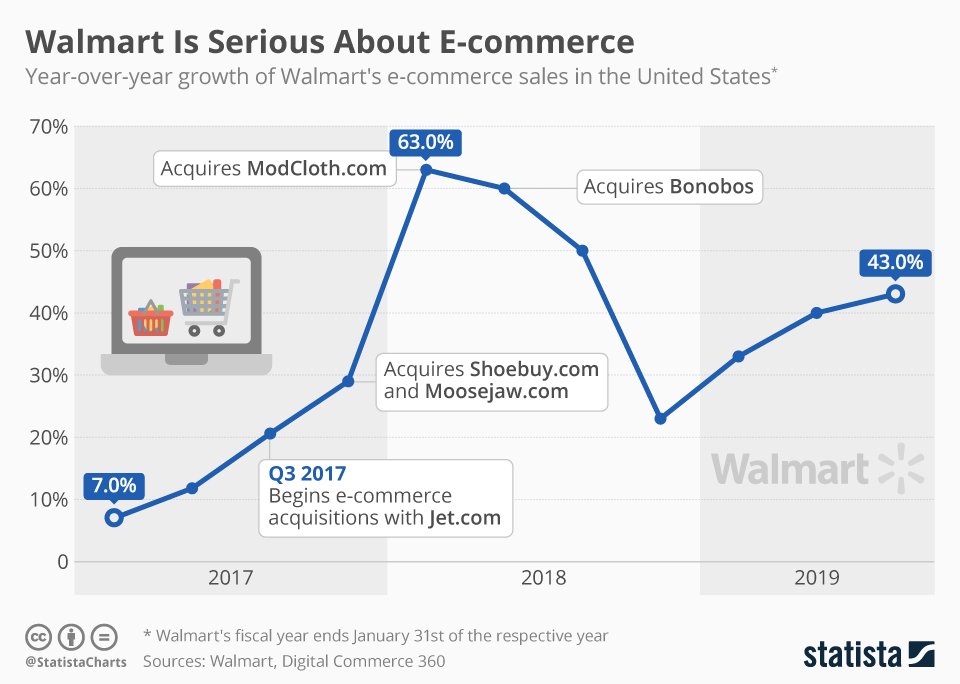 Walmart's Weaknesses – Internal Strategic Factors
Employee treatment and working conditions – Walmart has received criticisms and lawsuits several times regarding its workforce. Low wages, inadequate healthcare, and poor working conditions are few of the issues that have been publically criticized.
Large span of control – Its highly extended size and massive span of control could leave Walmart weak in some areas.
Thin profit margins – Walmart focuses on a cost leadership strategy. It results in thin profit margins for the company.
Gender discrimination – A lawsuit was filed against Walmart in 2007 that allegedly claimed gender discrimination in job opportunities at Walmart. Female employees are discriminated in regards to promotions and pay scale as per this lawsuit.
  Imitation – Walmart's business model can be easily copied. The company doesn't own any specific competitive edge over its rivals except its huge business size.
Walmart's Opportunities – External Strategic Factors
Expansion to other markets – Walmart can gain the opportunity by expanding its business to the markets which are not yet ventured. These may include China, Middle East countries, and Latin America.
Strategic alliances – Walmart has the opportunity to create strategic partnerships with major firms or merge with other global retailers. Acquisitions of small companies can also be a profitable opportunity for Walmart.
Enhancing human resource practices – Bringing advanced improvements in human resource practices can be a favorable opportunity for Walmart. As it highly relies upon its workforce, bringing innovation in its human resource management is a crucial opportunity.
Improving quality standards – Low-cost products render low quality sometimes. Walmart has the opportunity to enhance the quality standards of its products to address the health concerns of consumers.
Walmart's Threats – External Strategic Factors
Impeach 45 Controversy – Recently, Walmart was publicized for "Impeach 45" controversy. It sold T-shirts printed with the words 'Rope. Tree. Journalist. Some Assembly Required'. These shirts claimed to imply promotion of violence. However, Walmart overturned the controversy claiming that the T-shirts were sold by third-party sellers on Walmart's Marketplace instead of Walmart itself.
Fake craft beer controversy – Walmart was sued for selling fake craft beer in 2017. Though it was made by WX Brands, the beer was labeled and marketed as 'Trouble Brewery,' a non-existent production company.
A primary target of competition – The world's largest grocery retailer, Walmart is always a primary target for competitors. Target, its direct competitor, offers similar products but with higher quality. Similarly, Costco offers customers to buy items in bulk. Additionally, these companies have a relatively good reputation for treating their employees well compared to Walmart. Both companies are also publicly supported in these areas.
Political and legal Issues – This is also a threat to Political and legal affairs can always hinder the company to operate in some countries.
Small-scale online e-commerce companies – Many small-scale and individual online selling companies have entered the market offering similar products at similar prices on their websites. It can be a threat to the company's future standing.
Technical issues on the website – Customers have complained many times that there are some technical issues with Walmart's website. The products are not listed in an organized way on the website, and it runs slowly. However, Amazon is known for its fast, effective, and organized website, making an excellent online shopping experience for customers.
Recommendations
Following recommendations are given through which Walmart can improve its weak points and strengthen its market position for the future:
Improving its HR management standards and resolving the employees' issues. An effective HR system will prevent Walmart from any potential criticism regarding its workforce.
Expansion of business to global markets – Walmart needs to explore opportunities in developing markets to strengthen its position and increase market share.
Bringing advanced improvements in global supply chain and distribution network – It will fortify its vast retail empire.
Addressing the controversial issues as quickly as possible. Walmart needs to enhance its online selling website and include only authentic products to prevent further public criticisms.
Upgrading its online e-commerce sites. Walmart needs to resolve technical issues that hinder the websites' progress and offer a satisfying shopping experience for the customers.
Boosting marketing and promotional activities – it will help the company to enhance its brand image and attract new customers.
Walmart should also play an active role in environmentally sustainable practices to create a positive image in the industry.
.
Source:
https://bstrategyhub.com/swot-analysis-of-walmart-2019-walmart-swot-analysis/
Walmart SWOT analysis 2019: SWOT Analysis of Walmart. Business Strategy Hub. (2019, November 28). https://bstrategyhub.com/swot-analysis-of-walmart-2019-walmart-swot-analysis/.
.
Acknowledgement: We gratefully acknowledge the Business Strategy Hub organization for their efforts in sharing information about strategic management and corporate analyses. Thank you Business Strategy Hub team.
.